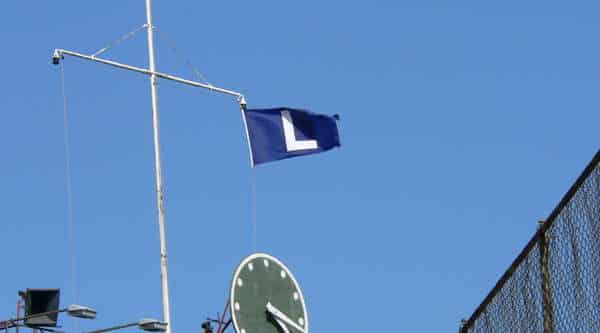 CI Recap (7/6/17) – Brewers 11, Cubs 2: L Flags Fly for a Day (Sort of), Championship Flags Fly Forever
I'm not going to say much about Thursday's game. The Brewers dominated from the jump, pounding Chicago into submission. I want to talk about the bigger picture of the 2017 season for the Northsiders.
It has not been a good year for the Chicago Cubs. A team entering the season with mile-high expectations has not even come close to meeting them. Understandably, fans have not reacted well to this mediocre performance.
It's funny how expectations can change over time. For years and decades Cubs fans secretly held a dream in the back of their minds. Just once before my time is up I want the Cubs to be in the World Series.
Not to win the World Series mind you, that thought wasn't even the stuff of dreams, just to make it there one time. Finally, after 71 years of longing, that dream became real. Then, astoundingly, the Cubs went on and won the World Series. It was a development that left nearly all of us Cubs fans dumbfounded, stunned silent by shock. Then something strange happened: it sunk in that the Cubs were champions and expectations changed.
Winning became addictive, nothing less than dominance was a given, the baseline was winning 100 games. When the realities of this season became clear, it caused anger. What in previous years would be thought of as hanging around the playoff race became unacceptable.
That isn't necessarily a bad thing, it's the sign of a good organization to have high expectations. On the other hand, don't let this season dim the joy of 2016. What happened last year was very special and you will remember it long after the frustrating memories of this season fade.
I was reminded of this the other day when my cousin texted me a picture. As I've mentioned before, my grandfather was the biggest Cubs fan I knew. He was born in 1924 and lived his whole life without seeing the Cubs win. He is the one who made me a Cubs fan, made my whole family fans, really.
What was that picture my cousin sent me, you ask? It was a picture of my grandfather's grave with a 2016 Cubs World Series Champions flag next to it. That flag will fly forever, so whatever happens now, just remember that actually happened last year.
Stats That Matter
Willson Contreras hit his 11th homer of the season, which was the only offensive highlight for the Cubs.
Jon Jay was not even close to lighting up the radar gun, but he did pitch a scoreless 9th.
Bottom Line
The Cubs are just not good right now. As I reiterated above, they did win the World Series last year. As for the current team, time is running out for a late-season surge.
On Deck
Chicago limps into the final series of the first half against the Pirates. Eddie Butler faces Trevor Williams at 1:20 CT, the game airs on CSN-Chicago and MLB Network (out of market).