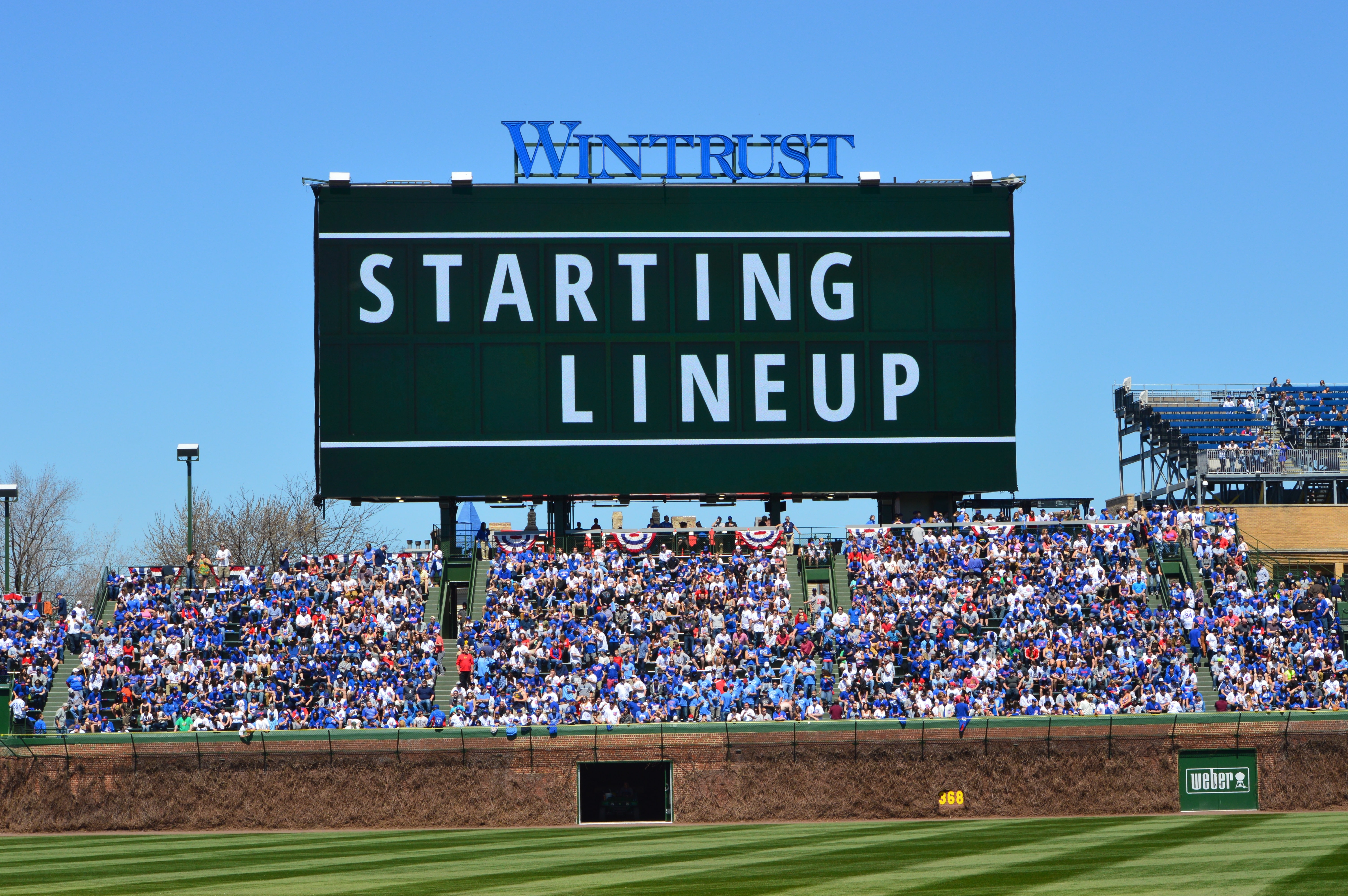 Chicago Cubs Lineup: Schwarber Returns, Bats Fifth as Cubs Try to Make Up Ground in Makeup Game
A day after Joe Maddon had talked about putting him back at the top of the order, Kyle Schwarber is back with the Cubs and is batting fifth. Yesterday's hero, Jon Jay, is leading off ahead of Kris Bryant and Anthony Rizzo, with Ian Happ cleaning up and playing second base. Willson Contreras is catching and hitting sixth, Jason Heyward is seventh, and Javy Baez bats eighth and plays short.
Mike Montgomery has filled a rotation spot very capably over the last month, though he does have a tendency to hiccup now and then. He's had real trouble turning over opposing lineups, a problem that has dogged him since his early days as a starter in Seattle. Some of that this season can also be attributed to the transition from the bullpen and the need to build up stamina over time.
Monty clearly has a nice repertoire of pitches, so it's just a matter of keeping them sharp as he works deeper into the game. That second time through appears to be the real bugaboo, as evidenced by a 1.76 WHIP that is boosted by a 5.59 BB/9 mark. The southpaw gets a second wind the third time through, though his strikeout numbers continue to drop precipitously.
He's gone deeper and/or has faced more batters in each of his five starts thus far and a continuation of that trend would bode very well for the Cubs. It doesn't sound like much, but having Montgomery pace them to a second straight win would be a serious boon as the first half winds down.
It's probably just my imagination, but the Cubs sure seem to struggle when facing mediocre pitching. That wasn't the case when they faced Zach Davies earlier this year, though, as they hammered the youthful righty for 5 runs in as many innings. A feast-or-famine pitcher, Davies has surrendered 4 or more earned in eight of 17 starts and 2 or fewer earned in seven others.
Davies is cut from the same cloth as Kyle Hendricks in terms of his appearance and repertoire, though his 6-foot, 155-pound frame makes him look even younger than the injured Cub. His performance to this point in the season is easily the worst of his brief career, with Davies pitching to a 5.03 ERA with a 4.98 FIP. Those elevated numbers are likely direct causes of his decreased ability to miss bats.
Generating fewer whiffs while throwing more pitches in the zone is not a great recipe for success, and it's really been hurting Davies this season. He had success in 2015 and 2016 by really pounding the ball down and in to righties, holding them to something like a .260/.305/.400 slash. While he's generally keeping the ball down this season, he's working over the plate with much more frequency. That has resulted in a .294/.343/.456 line against righties, which is not terribly worse than the .286/.366/.520 lefties have compiled.
And yes, the line with the lower batting average is better by 87 point in OPS and 31 in wOBA. And that's considering righties are OPS'ing .799, so not really the kind of thing you'd want to see from a starter. If the Cubs can take advantage of Davies' mistakes, they'll push themselves over .500 on the season and also against the slight pitcher in his career (3-3).
First pitch is 1:20 CT from Wrigley and the action will be broadcast in beautiful technicolor on CSN Chicago.
Here is today's #Cubs starting lineup.

Game preview: https://t.co/B3b79IvgSL #VoteKB pic.twitter.com/stk3DQbbHE

— Chicago Cubs (@Cubs) July 6, 2017