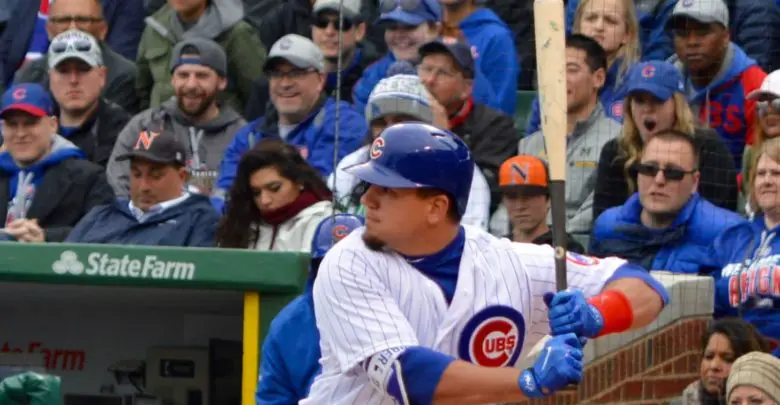 Strikeouts Be Damned, Schwarber Made First Step Toward Finding Himself Monday Night
Kyle Schwarber was hitting angry prior to his first game with the Iowa Cubs. Swinging with enough force to hit home runs off the tee at Principal Park, the demoted slugger looked like he had something to prove.
"[A demotion is] obviously something that you don't want to have, and it ticks you off a little bit," Schwarber told reporters prior the game. "You can't press, you can't do anything like that. But you try to make things happen. You've got to go back to what made you successful in the first place."
It was the first he'd spoken publicly about the trip to Iowa that was announced and his words echoed those of Theo Epstein, who explained the team's decision last Thursday.
"The answer is not home runs," the Cubs' baseball boss explained. "It's more how consistent his approach [is], how hitterish he is, his ability to handle different parts of the zone, hit the ball to all fields, hit line drives, be a tough out. Just start to resemble the hitter he's been his entire life."
In keeping with that plan, the humbled slugger went out and promptly…struck out looking on a curveball. Unwilling to allow that defeat to define him, Schwarber went up the next time swinging. He went down that way, too. Same thing in his next trip, which saw him take a ball before whiffing on three straight pitches. Even the best players are going to struggle once in a while, but it's never a good thing when a would-be franchise cornerstone sees his at-bats, strikeouts, and minor-league level all line up like the world's crappiest slot machine.
"It's part of the game," Schwarber had said earlier in what may as well have been a preemptive pep talk. "You've got to learn how to fail to be the best. A lot of good players have gone through this."
If I can go ahead and "well, actually" Schwarber here, it's not so much the learning to fail part that makes you the best. I mean, placing emphasis on the words in a different way would have Schwarber saying that he wants to learn how to fall short. It's learning to move past the failure, to allow it to drive you rather than consume you, that makes you better.
And that's what Schwarber is trying to do at Iowa. He had been failing and flailing with the Cubs, unable to take what he was working on in the cage and the film room with him to the batter's box during games. His struggles weren't as much mechanical as they were mental. So this stint in the minors isn't so much about tweaking his swing as it is breaking up the psychological dam that had built up.
"I'm not here to try to change everything," Schwarber said. "I want to stay myself. I want to get back to myself, and be confident while doing it. It's an opportunity to relax and get back to being myself and try and get back up there."
I don't know about you, but I can think of better places to relax than Des Moines. And while I'm sure some of my Hawkeye State readers might take umbrage with that slight, even the most ardent Iowans can agree that stepping to the plate while trying to avoid a golden sombrero is probably not the best way to set one's mind at ease. But Schwarber, who was in exactly that predicament, probably doesn't look at things like you or I would.
So he jumped all over the first pitch he saw in that last at-bat, ripping it to the wall in right (Twitter video, single at :30 mark) and settling for a single because he hit it so hard that the the right fielder was able to prevent him from heading to second. The box score won't show those things, nor does it care whether his hit came before, betwixt, or behind his three strikeouts. But the fact that it came late matters, or at least I think it does.
I'd sure rather finish with a long single than open with one and then K my next three times up. So when I saw that he'd collected a knock in that final trip to the plate Monday, it gave me a little hope. Just a little, mind you, as it's such an incidental and arbitrary example. But string together enough of those little samples and pretty soon you've got something worth talking about.
What Schwarber's been talking about isn't so much a vacation as it is an opportunity to work just as hard as before, albeit in a different setting.
"I'm not going to back down at all, trust me," Schwarber told the Des Moines Register's Tommy Birch. "My goal is to get back up there as soon as I can, and I'm going to work my butt off."
As Birch reported, that meant working with I-Cubs' hitting coach Andy Haines, who had just gotten back to town after a series in Round Rock, TX, on Sunday night. The two reportedly put in a few hours together that evening, then were back at it Monday well ahead of any of Schwarber's AAA teammates. And there they were again a little before 2pm CT Tuesday, first getting in some practice off the tee before moving to live BP.
Haines was said to be offering advice after nearly every swing, just working on little adjustments here and there to help the slugger get dialed in.
"I think it's more movement, as far as slowing him down a little bit," Haines told Birch. "Because the power was there in the big leagues. For us, down here, it's more about maybe controlling the movements a little more, taking the upper body out of his swing."
The idea that it's easier to do those things in Iowa, where the product isn't nearly as important as the process, seems to hold water on the surface. And when the dam does finally break and Schwarber reaches that watershed moment, it's going to be damn fun to watch. It'll take more than four at-bats for that to happen, but I actually feel pretty good about that first performance.
So to those who would question Schwarber's ability to make it back to Chicago and have a meaningful impact once again, I can only share his words upon being told prior to the 2014 draft that some people in the Cubs organization didn't think he could catch.
"Well, I look forward to proving those f—ing people wrong."