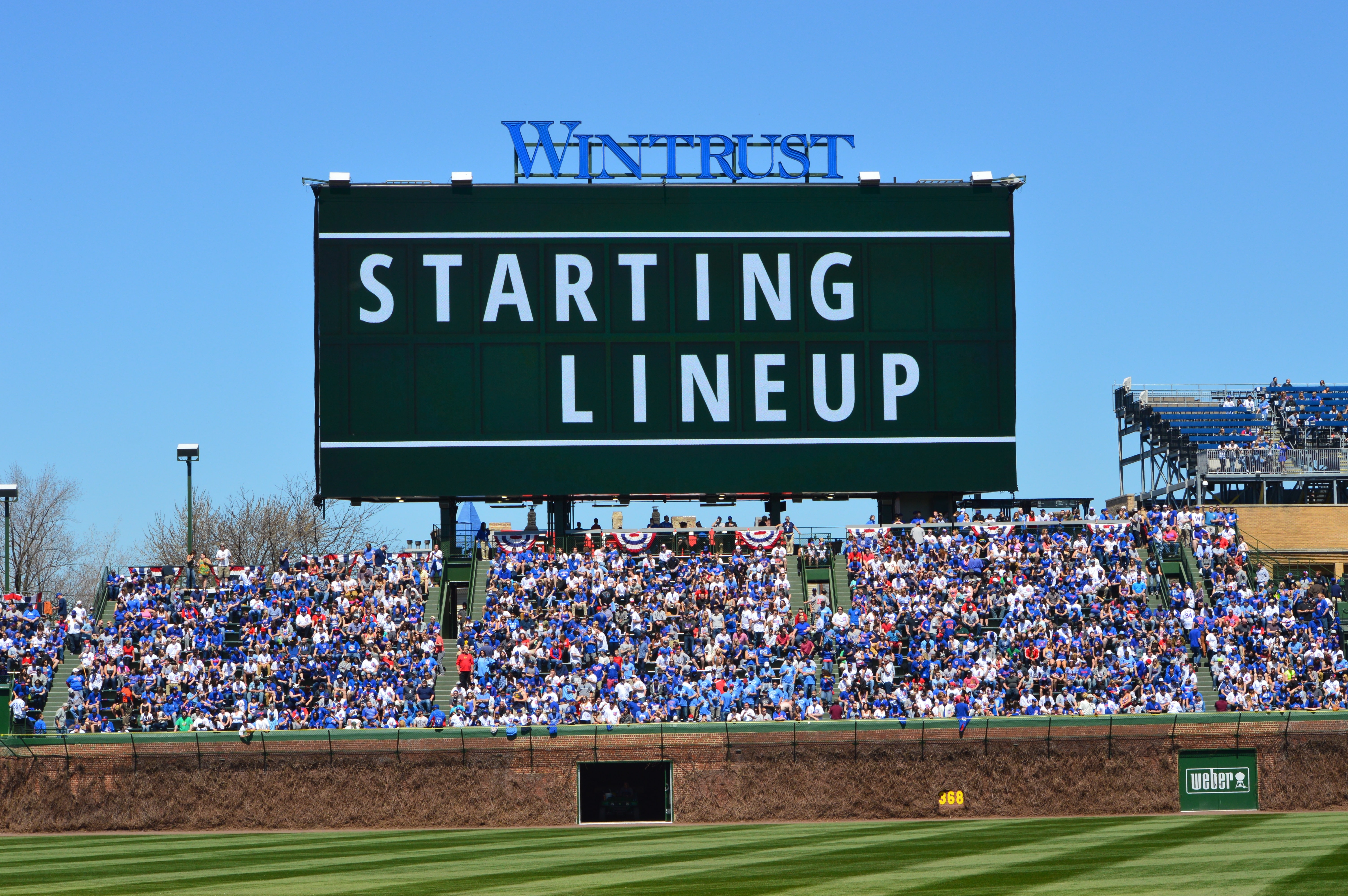 Chicago Cubs Lineup: Schwarber Leading Off, Russell Returns as Butler Faces Former Team
Hold on to your butts.
Hoo boy, I bet this lineup is going to have folks talking. And Kyle Schwarber being slotted back at leadoff is the least of it. Addison Russell has returned to the lineup after a crazy couple days, playing short and batting eighth. I'm sure part of that is ripping of the band-aid, while another part is how bad Javy Baez has looked at the plate lately.
Ian Happ gets the day off, which is why Schwarber is at the top. It's also why Albert Almora Jr. Is in center. There are some particulars of this matchup that make it advantageous for those two as well. More on that in a bit.
Eddie Butler has been something of an enigma this season, putting up a 3-1 record with only one game that looks bad in the box score and a couple others that made you hold your breath as you watched them. But while he's worked all over the zone has hasn't always been efficient, Butler has been able to do something seemingly no other Cubs starter can: Limit home runs.
Butler has allowed only one dinger in 24 innings, a trend he'll want to continue against a dangerous Rockies lineup. He'll need to limit the walks too, something he was able to do in his last start against Miami. Butler will be without his piggyback pal now that Mike Montgomery has entered the rotation in place of Kyle Hendricks, which means potentially having to make it at least through the 5th inning.
That'll be even more important given Jon Lester's relatively short outing the other night. Butler's job this afternoon is to stay around the zone, prevent walks, and avoid the longball. Simple, right?
If the Cubs are to break their current skid, they'll have to do so against a guy who's having a surprisingly great season so far. Granted, he hasn't even pitched 21 innings yet, but Jeff Hoffman has allowed only half a dozen earned runs and has walked only two (both in his first start) while notching 26 strikeouts. That's Kershawian, right there.
Hoffman faced the Cubs back on May 9 in his season debut, but that appearance came out of the pen. He struck out two and gave up a home run to Kris Bryant to cap the scoring in an 8-1 Cubs win. That homer is one of three he's allowed this season, so that might be his Achilles heel. Again, we're drawing from a very shallow well here.
The Cubs will have to catch up to a fastball that averages 95 but touches upper 90's, offset by a slider and curve with an occasional change thrown in for good measure. Hoffman is an extreme fly-ball pitcher who only generates grounders on 25 of the batted balls against him. In order to get to him, the Cubs are going to have to look for that fastball staying up in the zone and they're going to have to jump on it.
The big righty hasn't walked a batter in 17 innings, so Cubs hitters should be able to get into a more aggressive mindset against him. Hoffman will bury his breaking pitches and offspeed stuff down and away to righties, but the heater has a tendency to hang up in the zone and more over the inner third. You can see these locations illustrated in the heat maps below.
As you might guess, righties have fared better this season, slugging .474 against Hoffman. We're dealing with a very limited data set, though, so things could turn out very differently.
I'd love to see Schwarber be able to lay off the breaking stuff and then do what has served him well lately, which is to drive those pitches away out to the opposite field. At the very least, he needs to make it so that Kris Bryant isn't leading off three innings again.
For what it's worth, Hoffman's propensity for high heaters may be part of why Happ is out. Well, that and going 1-for-12 with six K's over the last three games.
First pitch is set for 1:20 CT and will be aired on ABC-7 (or your local provider).
Here is this afternoon's #Cubs lineup vs. Colorado.

Game preview: https://t.co/FntY8foFCQ pic.twitter.com/Zaz7Nc3qxt

— Chicago Cubs (@Cubs) June 10, 2017