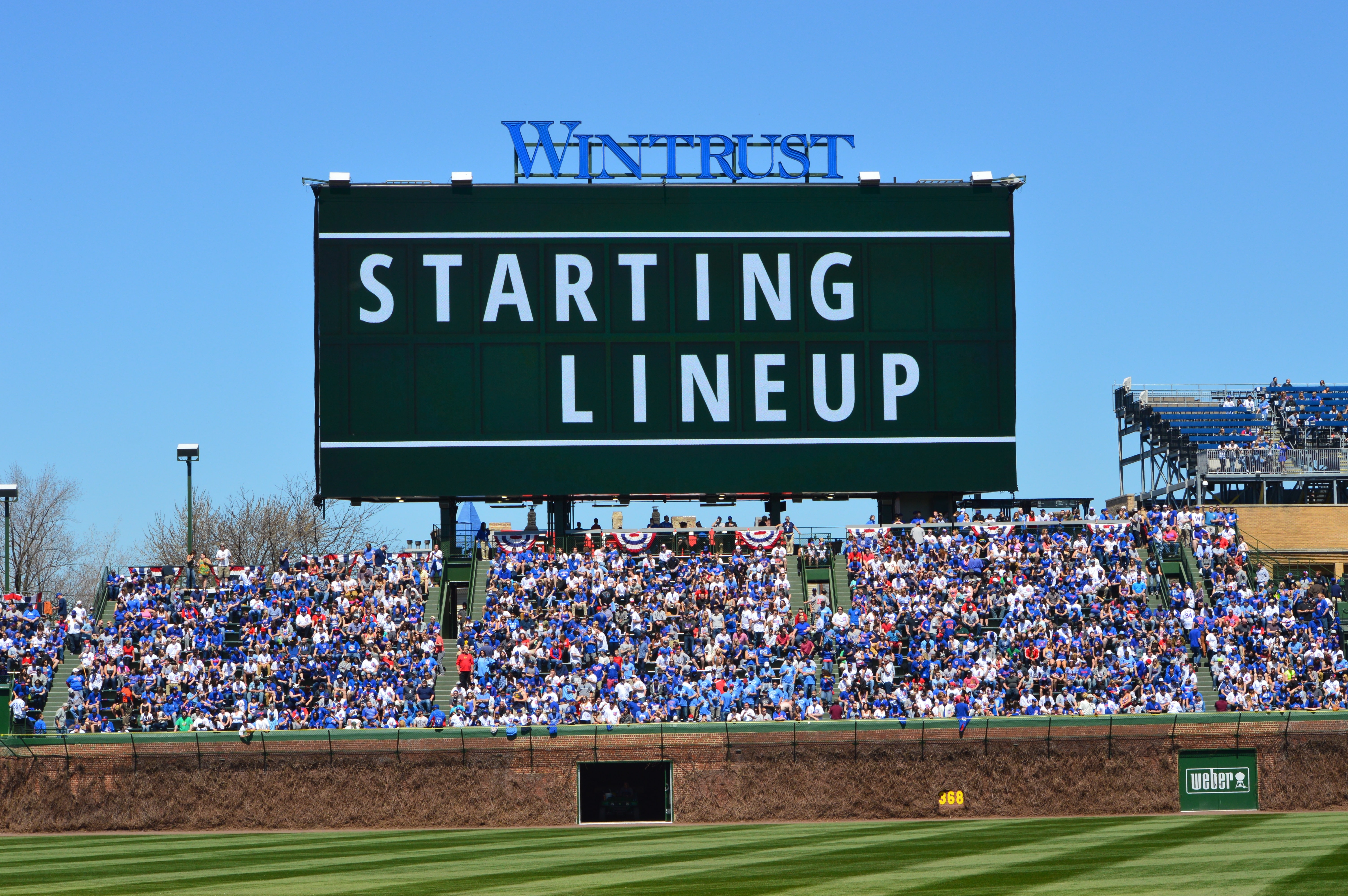 Chicago Cubs Lineup: Happ Leading Off, Schwarber Ninth, Russell Sits
Ian Happ must've really tired himself out hitting two home runs Sunday night because he's been out of the lineup for the last two games. Well, he's back hitting leadoff and playing center tonight against the Marlins. Flanking him will be the hot-hitting Jason Heyward, batting fifth and playing right, and Kyle Schwarber, once again holding down the ninth spot in the order.
Ben Zobrist is back as well, playing second and batting behind Bryzzo. Miguel Montero has been catching John Lackey somewhat routinely, but he's gotten a lot of time in general over the last couple weeks and Willson Contreras needs to spread his wings a little bit. Besides, the Marlins might get a little froggy on the basepaths after seeing their offense held in check the last couple games.
Javy Baez is in there at short as the timeshare for the position continues in light of Addison Russell's struggles. Baez has proven that he needs to be in there as much as possible and he's settled in nicely after a rough April.
The way the team has been hitting, it feels like a good night for Schwarber to really get off. He looked good in the last two games against the Cards last weekend, bashing a grand slam and drawing three walks. But he was all crossed up Monday, after which Joe Maddon admitted that it was a bad matchup and that he should have sat Schwarber.
Facing hard-throwing righty Jose Ureña might be just the ticket, as balls tend to leave the yard when he's on the mound. The Marlins starter allows 1.52 HR/9 and gives up an above-average number of homers per fly ball. And he allows fly balls at a 41.4 percent clip, which is not a small figure.
What's a little odd about Ureña's game is that he generates very few swings and misses despite a mid-90's fastball and power slider. He's only struck out more than four batters once in six starts and only averages 5.32 K/9, a very low number for a former reliever (his first six appearances were out of the pen). He also walks 3.42 batters per 9 innings, something the Cubs should be able to exploit.
The splits aren't exactly favorable for lefties, though, as we see in a .185/.275/.250 slash. Righties, on the other hand, are hitting a robust .311/.386/.618 against the young Marlin. Even if Schwarber's not able to prevail, this has all the markings of a big night for Kris Bryant. I've got a feeling Javy's gonna make us yell too.
When it comes to pitchers who've been bitten by the longball, John Lackey is right there at the top of the list. He has given up at least one homer in nine of his 11 starts and has surrendered 14 in all. Not what you want against a lineup that features Giancarlo Stanton, among others. We could be in for a slugfest tonight, folks.
First pitch is at 7:05 CT and this one's on WGN, so be sure to check your local affiliates if you're not in Chicago.
Here is tonight's #Cubs lineup vs. Miami.

Game preview: https://t.co/njpmPA0RiZ pic.twitter.com/feYj7jjF5H

— Chicago Cubs (@Cubs) June 7, 2017