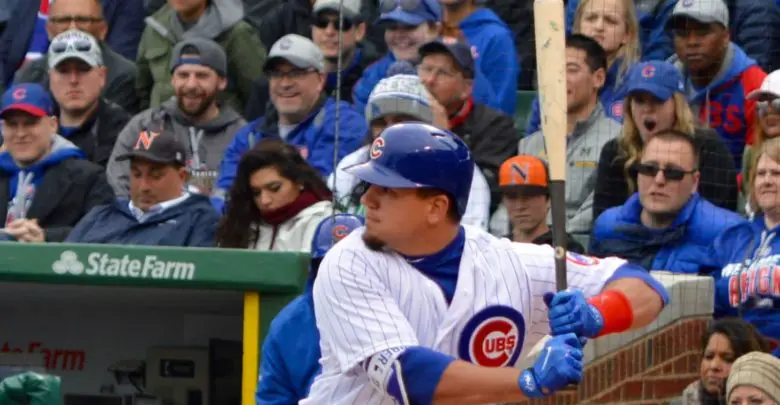 Epstein Says Schwarber Fighting Himself, No One Immune to Sitting or Going Down to AAA
Appearing on 670 The Score's Spiegel and Parkins Show Thursday afternoon, Theo Epstein went into further detail on what had he previously stated regarding the possibility of sending a struggling Kyle Schwarber down. A couple weeks back, Epstein had said that the Cubs would only consider bigger moves with Schwarber if he wasn't giving himself a chance at the plate.
"He's definitely fighting himself, obviously," Epstein admitted. "And he cares so much and wants to contribute so much, this is killing him. And he's working his tail off maybe too much at times and just crushing the video and in the cage all the time. But yeah, there are times when he's going up to bat when he just doesn't look at all like himself and you wonder if he is giving himself that much of a chance. But then you see how hard he's working and he's had a few good swings and hit the ball out of the ballpark a few times.
"I just think it's…look, no one's immune to needing to sit or needing to go down at the right time, and you want to give guys a chance. It's just something we'll continue to monitor with all our guys, and, as I said the other day, it's really rewarding when they can work themselves out of it up here. For them — not for us — for them and for what it means long-term, so the next time they go in a slump they can lean on what they did up here to get out of it and shorten the length of time when they're slumping."
In short, Schwarber's preparation is fine and the process looks good for the most part, but the product has been disappointing. After speaking specifically about the Cubs' No. 2 hitter, though, Epstein pivoted to speak more generally. That may have been to steer the conversation away from Schwarber, but it may also have been a subtle way to include the possibility of Ian Happ going back down.
After a hot start, the rookie has been flailing away as pitchers have begun to attack him up in the zone. Schwarber, on the other hand, has been fine with pitches up and away but has been handcuffed by anything on the inside corner. The Cubs would obviously prefer to keep everyone up in the bigs and have them work through their issues at the highest level, though there may come a point when that isn't happening.
"It's not always possible," Epstein said of keeping everyone in Chicago. "And there's a long line of guys who have gone down and fixed things, and if that happens to one or two of our guys, I know they'll respond the right way. But we're not there, we're not there yet. There's no rules, there's no blanket statements, there's no ultimatums. We want our guys to work out of it here if they can, but it may or may not happen for everybody.
"If it gets to a point where they need it, just because it might be a disappointment doesn't mean you steer away from it. It can be a mental break and a chance to work on things.You just make the right baseball decision. You don't necessarily worry about somebody's feelings or anything like that. You make the right baseball decision for the team first and then for the player's development as importantly."
Epstein went on to further state the obvious when it comes to his team's play, noting that they still have two-thirds of the season to play and that the NL Central hasn't exactly been a horse race. You almost wonder whether the overall underperformance has shielded Schwarber, who is actually not bad at baseball, or if his high position in the order has made him seem like more of a catalyst for the offensive failings.
I guess it doesn't really matter, though, as results are results. Given the bad-luck nature of Schwarber's struggles, there's an argument to be made that sending him down won't really do any good. Then again, Epstein acknowledged what we've all seen, which is that the slugger does appear to be battling himself up at the plate at times. Perhaps a couple of weeks mashing minor-league pitching would recalibrate his mental approach.
For the record, I'm against a demotion, but it doesn't sound like Epstein is diametrically opposed to the idea. In fact, it almost sounds as though he's setting the stage for what might happen should things not improve over the next couple of weeks.