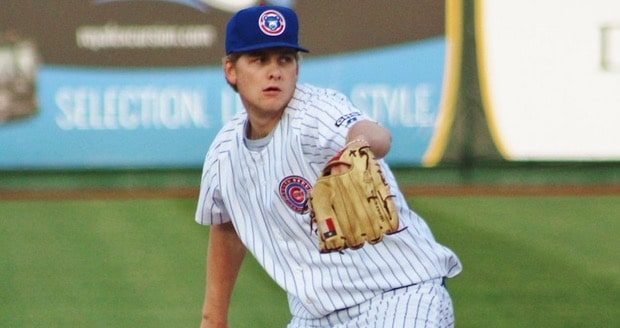 Biggest Surprise Prospect of 2017 Is Another of Those Dartmouth Guys
It is pretty clear to me that the most surprising Cubs prospect over the first two months of the 2017 season has been South Bend pitcher Duncan Robinson. The tall right-handed reliever has put up a 1.36 ERA in nine appearances, five of which have come in relief and four of which were starts. It looks like Robinson could be in the rotation to stay after throwing 13 innings in two starts and only allowing only one run.
Dartmouth isn't exactly a baseball factory, but Robinson is the second pitcher in the Cubs organization to come from the prestigious Ivy League school. The other, as you're probably well aware by now, is Kyle Hendricks. But make no mistake, Robinson is nothing like Hendricks.
As a freshman, Robinson made 10 appearances as a reliever. And during his sophomore year in 2014, he had a 2.96 ERA and struck out 40 in 54.2 innings. However, it was his junior year when he began to put together a series of accolades, including Ivy League Pitcher of the Year. His senior season also saw him named to the All-Ivy League first team. His strikeout-to-walk ratio of 10.43:1 was fourth in the nation and he only allowed 0.92 walks per nine innings, which was sixth in NCAA.
Selected in the ninth round of the 2016 draft, Robinson appeared in one game in Mesa last year before moving north to Eugene. He had one bad outing out of seven and had a 4.19 ERA in 33.2 innings, all in relief.
What I like most about Robinson is that he can throw in the low 90's and has a power 12-to-6 curve. So far, opponents have only hit .210 off of him and he boasts a minuscule 0.91 WHIP.
Basic Info
23-years-old
6'6" 220 lbs.
Strengths
12-6 hard-breaking curve
Pitches inside on the hands
Low-90's fastball
Great control and command
What others say
The Baseball Draft Report was one of the first sites to praise Robinson as far back as 2015.
Dartmouth JR RHP Duncan Robinson isn't just a good pitching prospect for the Ivy League; he's a good pitching prospect full stop. Guys with his size (6-6, 220 pounds), fastball (consistently low-90s), and breaking ball (have it listed as an in-between pitch in my notes; I'd call it a slider, but think folks at Dartmouth call it a curve) are easy to get excited about. The mechanics and control both check out for me, so his chance at crashing the draft's top tier of pitching prospects will largely come down to the development of a softer offspeed pitch that will keep hitters off his fastball/breaking ball combo and enable him to start as a pro.
Going Forward
It is not as if Robinson has an identity crisis, but I don't think the Cubs quite know what they are going to do with him yet. For now, he does whatever they tell him to. I really like his command of his pitches, his deceptive delivery, and that he's able to pitch inside quite a bit. This frees up the outside of the plate for whatever he decides to throw there. It doesn't have to be his curve, as he can throw any pitch at any time anywhere for a strike.
I'd imagine the plan going forward will be to just let him pitch. He may like to start, but he may be needed in a relief role, more like a piggyback starter. And that would be fine at this point. It would allow Robinson to work on his pitches and to build up his arm strength.
The most innings he threw in any season in college were 68.2 in his senior season, so he needs to develop stamina. The Cubs like to have their class-A pitchers throw between 100 to 120 innings, and Robinson is currently on the perfect pace to reach that goal.
I am looking forward to watching him the next month or two to see how his stuff plays in warmer weather and to see whether he will be in South Bend or Myrtle Beach for the second half of the year.