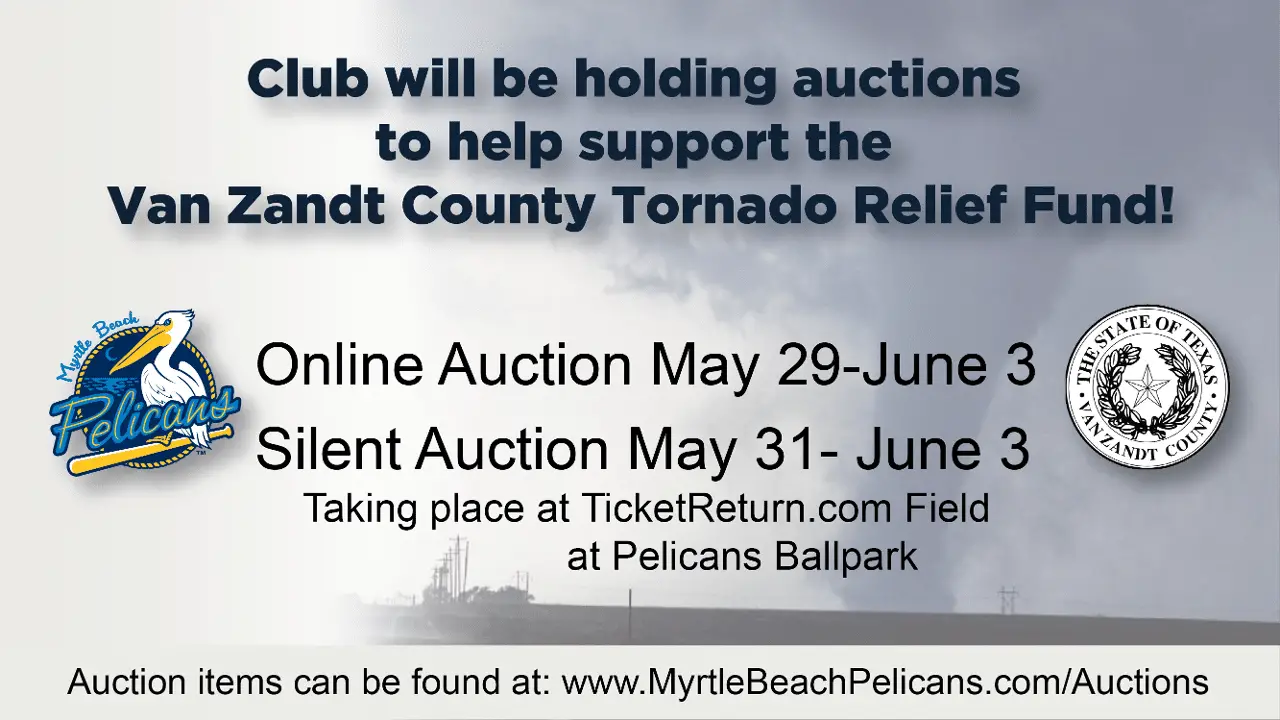 Bid on Awesome Cubs Items, Help Ty Wright and Pelicans Raise Money for East Texas Tornado Relief
Though he's far removed from his native Tyler, Texas, Myrtle Beach Pelicans hitting coach Ty Wright felt the impact of the deadly tornadoes that swept through nearby Canton on April 29. Famous for its First Monday Trade Days, Canton is a gathering place for folks in East Texas and even surrounding states. Unable to be there in person to aid in the recovery efforts, Wright was compelled to leverage his role in the Cubs organization to do his part.
A 7th round pick by the Cubs in the 2007 draft, Wright spent seven seasons in the organization before playing in 2014 with the independent Somerset Patriots. He then transitioned to coaching and returned to the Cubs as an assistant hitting coach with rookie league Mesa. The following season saw him with the short-season Eugene Emeralds as their hitting coach. Now at Myrtle Beach, Wright works with rising stars like Eloy Jimenez, Matt Rose, Trent Giambrone, and more.
I got the chance to talk with Ty once he'd finished up his coaching duties following Myrtle Beach's Sunday game and I was immediately struck by his humility and his genuine desire to help. It was clear that Canton was close to his heart and that he just wanted to make a difference in spite of the distance.
So how does a guy with deep ties to the Cubs organization raise money? An auction, of course. We've seen over the years how dedicated the Cubs are to giving back to the community, to the extent that it's one of the pillars upon which the Ricketts family built their ownership platform. You can imagine, then, that there might be a few people lining up to donate items.
That means all manner of signed gear and memorabilia from Ryne Sandberg and the founders of Bryzzo Souvenir Company, among others. Because of the Pelicans' history as a Rangers affiliate, items from Elvis Andrus and Joey Gallo will be available as well. The online portion of the auction runs from May 29 – June 3 and can be accessed via the Pelicans site.
Fans attending TicketReturn.com Field at Pelicans Ballpark during a four-game homestand from May 31 – June 3 will have the opportunity to participate in a silent auction for various items. Wright explained to me that they'd have several "mystery prizes" too, chances for people to pay $20 or $30 for sort of a grab bag or autographed ball or what have you. All proceeds from both auctions will benefit Van Zandt County Tornado Relief Fund.
I only wish I could do more, but my hope is that this post might reach two or three people who have both the desire and wherewithal to win the bidding for a couple of these items and help drive the donation that much higher.