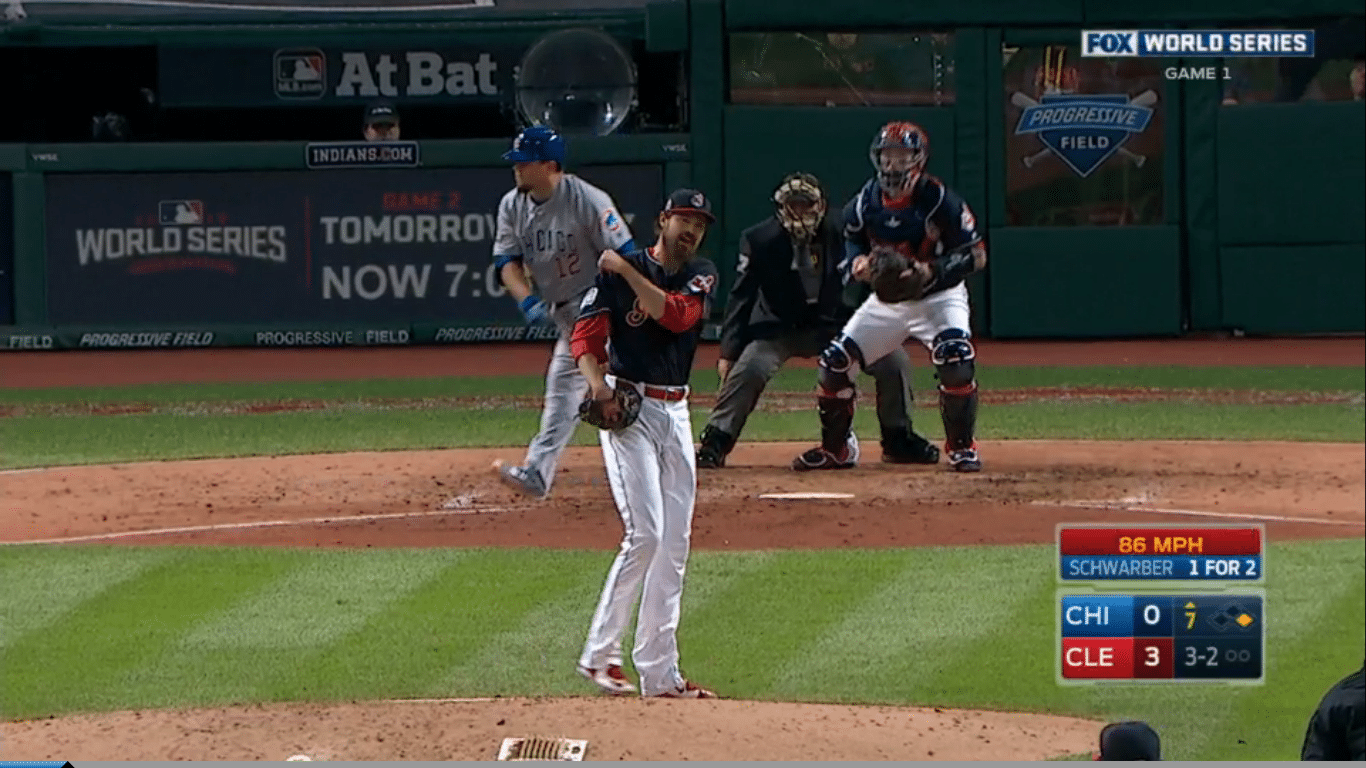 Kyle Schwarber's Hot Takes Perfect for Leadoff Spot
You take it on faith, you take it to the heart
The waiting is the hardest part
-Tom Petty, The Waiting
Though it was recorded roughly eight years before he was born, those lines perfectly describe 2016 for Kyle Schwarber. Well, most of it. Since coming back to DH in the World Series just six months after trashing his left knee, the slugger has shown that he's perfectly happy waiting.
Let's talk for a moment about the kind of patience Schwarber has displayed in light of his situation. Here's a 23-year-old power hitter who'd been out since the third game of the season and who was then thrust upon his game's biggest stage against some of the best pitchers the American League had to offer. And he's taking pitches. That's not just impressive, it's damn near supernatural.
His restraint was on display starting with Game 1 of the World Series. After striking out swinging in his first at-bat, Schwarber roped a ringing double against Cleveland starter Corey Kluber. When he came up again in the 7th, the Cubs were down 0-3, Ben Zobrist was on first, and lefty Andrew Miller was on the mound. And we're talking the good version of Miller, not the irreparably broken husk of a pitcher who had his soul scooped out by David Ross in Game 7.
So there's Schwarber with his team down late and a man on, a lefty masher facing a tall southpaw with insane stuff. Have I mentioned that this was the World Series? The first pitch, a slider, came in low and away. Ball one. Another slider, another take, this time called for a pitcher's strike. Then a third slider down and away for ball two and a fourth that was fouled on what might have been ball three.
Here's a look at Miller's fifth pitch, the only fastball he threw to Schwarber:
And here's his sixth, yet another slider that Schwarber never even thought about swinging at:
Now that is a hot take.
War Bear's fourth at-bat in Game 2 got no publicity at all, not in light of a 3rd-inning RBI single that saw him yelling nasty things at David Ross. His next trip the plate resulted in another RBI base hit, further cementing his status as a folk hero. But I keep going back to Schwarber's backwards K in the 8th inning just the same.
He'd already driven in two and the Cubs were up 5-1 with only one out. If it's me in that situation, I'm going up there looking to tee off on Dan Otero. Schwarber, though, refused to offer on a called third strike that he couldn't have done anything with had he swung.
Am I retroactively assigning too much credit for that take in order to strengthen my case? Perhaps, though I distinctly remember at the time thinking it was still a good AB and that it was as much a sign of his skill than anything he'd done to that point.
Fast-forward five months or so to Opening Night. With two men on and only one out in the 8th, Schwarber strode to the plate with the Cubs down 0-1 and Cards reliever Seung Hwan Oh on the mound. Two sliders from Stone Buddha, two swings from Schwar Buddha. Down two strikes and with a zone that had seemed a bit wide all night, you'd expect the batter to protect the plate and offer at anything close. Nope.
His bases-loading walk would eventually go for naught, but the effort was a shining example of exactly why Joe Maddon came out of left field — literally and figuratively — with his choice of leadoff hitter. Now, if you're thinking it's silly to use just three trips to the plate to illustrate a point, you're right. Sort of.
Were we talking about some random low-leverage at-bats, this stuff might not hold water. But seeing how Schwarber handled himself in these given situations I can't help but be stoked on his ability to set the tone for what could well be a more potent offense than the one Dexter Fowler led last year.