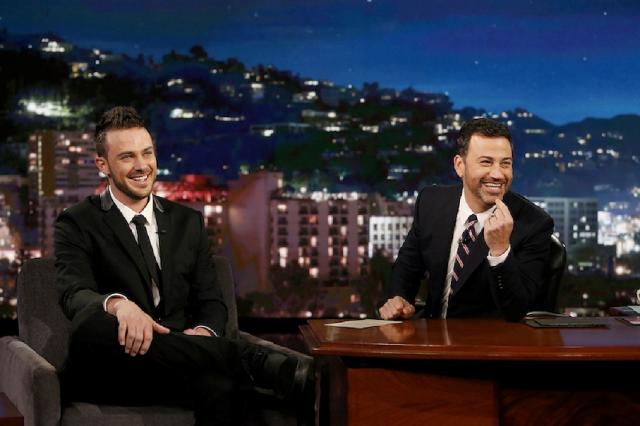 Watch: Cubs Take Over Late-Night TV
It had been a long four nights without Cubs baseball, to the point that I was starting to experience some of the symptoms of withdrawal. Or maybe that was just the chill that has only now started coming through my open windows in the evenings. Monday Night Football was but diluted milk-blood, which is why I was relieved to find that Kris Bryant would be appearing with Jimmy Kimmel just as Anthony Rizzo, Dexter Fowler, and Ben Zobrist were set to join Jimmy Fallon. Score!
As we learned through the delirium of the World Series, a 3-1 advantage isn't necessarily a good thing. That was true for the late-night talk scene too, with KB's appearance trumping the others in terms of general entertainment. I've got an affinity for Fallon because I loved the way he always broke character and laughed on SNL, and because I've been told I look like him. Seriously, it used to happen all the time. Then again, Jimmy Kimmel got hammered with Snoop Dogg and Adam Carolla during his first show, so that was hilarious.
In any case, Bryant showed up on stage with a goat draped in a W flag and it was on from there. He seemed really earnest, like a kid who was still in shock after finally realizing a lifelong dream. Which, well, he was. Kimmel let his guest talk and really work through his answers, which I found refreshing.
https://www.youtube.com/watch?v=6IQxJThwlG4&sns=em
When they came back from a commercial break, during which the Fallon segment with Bryant's teammate's kicked off, Kimmel brought a Cubs fan out of the audience to sit next to Bryant. That made for a pretty fun, relatively candid moment. I missed a little of it due to flipping back and forth between the two shows, but ended up sticking with KB and Kimmel for the most part.
While it was really great to see the Commissioner's Trophy out there and to see Zobrist repping his own MVP hardware, the Fallon segment seemed a little forced and even slightly awkward at times. The dynamic just wasn't very fluid and Fallon was talking over the guys a bit more than he needed to. And, of course, he had to bring up Steve Bartman, though Fowler's response almost made it worthwhile.
https://www.youtube.com/watch?v=e4rc857qpiw&sns=em
Not that the Chicago Cubs are some unknown commodity or something, but it's nice to see them getting some legit national coverage and having some of these players become household names. It's even better knowing that a lot of folks are seething over the continued celebration of a title 108 years in the making.