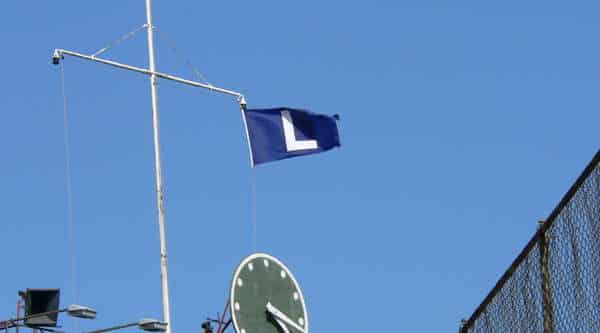 A Tip of the Recap — 9/10 (Cubs 1, Astros 2)
Cubs Record: 90-51 (magic number: still 7)
W: Collin McHugh (10-10, 4.86)
L: John Lackey (9-8, 3.35)
S: Ken Giles (10)
MVP: Every Astros pitcher; Cubs were held to just 2 hits and 1 run
John Lackey had a couple dicey innings, but overall pitched well enough to win. He gave up a couple runs in the 3rd inning and the Astros made it hold up to hang on to a 2-1 victory.
The Astros got to Lackey with one out in the 3rd; first Alex Bregman hit a solo HR to right-center that just made it over the wall. Then after a couple singles, they brought home their second run on a very well executed squeeze bunt by Marwin Gonzalez.
The Cubs scored their run in the 4th with Jorge Soler drawing a one-out walk, followed by a double by Miguel Montero to put men on second and third with one out. Willson Contreras then popped a ball out to medium depth right, which was just deep enough for Soler to score from third. Montero advanced to but was stranded there when Jason Heyward grounded out to end the inning.
The Cubs had opportunities to score more and also had chances to win this game today, but couldn't come through with any "clutch" hits as they left 12 men on base, including 5 in scoring position with 2 outs.
The Good
John Lackey was mostly good today, especially if you take away the 2nd and 3rd innings where he was either in trouble or gave up runs. He finished with a quality start and gave up just the 2 runs on 4 hits and 2 walks with 5 K's. It was just his second start back from the DL and it was good that he finished strong and made it through 6 innings with only 89 pitches.
Justin Grimm and Carl Edwards Jr. pitched well in relief, especially Edwards Jr., who struck out 2 in his perfect inning of work to lower his ERA to 2.70. Also, don't look now, but Grimm's ERA is all the way down to 3.54 and he has been as close to automatic as possible since June.
Willson Contreras got the start behind the plate and came in 0 for his last 8. He didn't have an eye-popping game and did strikeout in the 9th inning with the tying run on third, but he did draw two walks and drove in the only run for the Cubs. He also threw out a runner (Jake Marisnick) trying to steal second. It was cool timing because the Fox broadcast was interviewing David Ross at the time and he got really excited to see Contreras gun someone down.
The Bad
This is one of those games that should just be forgotten just as soon as the team leaves the field. The Cubs struck out 12 times and just couldn't get the job done today. But as they say, that's baseball for ya.
Kris Bryant and Anthony Rizzo combined to go 0-for-7 with 3 K's and a walk. This was just the 11th time they have combined to go hitless all season and the Cubs fell to 4-7 in those games.
The Ugly
Jorge Soler had a hat trick today, going 0-for-3 with 3 K's. He did draw a walk and scored the only run and the silver lining was that he looked rather spry running the bases, so that was good. I tend to cringe whenever he really has to kick it into gear because of how many leg issues he has had over the years, but made it out safely.
Javier Baez had a weird hip injury that he either developed throughout the game or got on a swing in the 8th inning. It didn't appear to be terribly serious because he stayed in and completed his AB after being visited by the trainer.
Coming Attractions
The series with the Astros concludes as the two teams face off on Sunday night baseball on ESPN. First pitch is scheduled for 7:05 PM (CST) and will feature a matchup between Jake Arrieta (16-6, 2.84) and Mike Fiers (10-6, 4.29) for the Astros.