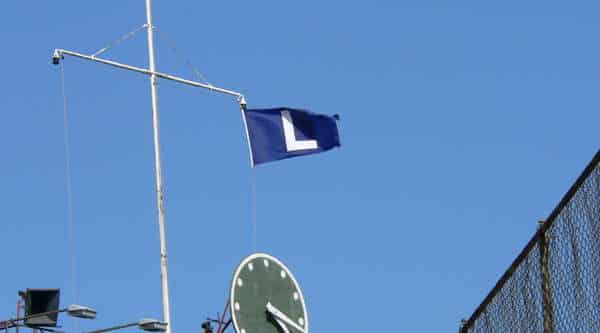 A Tip of the Recap – 8/28 (Dodgers 1, Cubs 0)
Cubs Record: 82-47 (1st, NL Central)
W: Joe Blanton (5-2, 2.36)
L: Trevor Cahill (3-4, 2.68)
S: Kenley Jansen (39)
MVP: Dodgers pitching
If you like good starting pitching, this was the game for you.
Both the Cubs' Jon Lester and the Dodgers' Brock Stewart were on point, pitching six and five innings of shutout baseball, respectively. Other than each team putting a runner on third with two out, neither squad was able to generate much of anything against the starters.
The respective bullpens came on and the teams continued to trade zeros until the bottom of the 8th.
Trevor Cahill got Chase Utley to strike out swinging to start the inning, but then hit Andrew Toles with a pitch and had a two-base throwing error on a Howie Kendrick grounder that put runners at second and third with one out. After Cahill intentionally walked Corey Seager to load the bases, Joe Maddon turned to Carl Edwards Jr. to get out of the jam.
The move appeared to pay off when Edwards struck out Justin Turner and induced an Adrian Gonzalez grounder to third baseman Javy Baez, but Baez's throw to second was late and the go-ahead run came around to score.
Chicago went down 1-2-3 against Los Angeles closer Kenley Jansen in the top of the 9th to drop the rubber game of the three-game set, 1-0.
The Good
The starting pitching for both sides was outstanding in this game.
On the Cubs' side, Lester continued his run of strong starts with another superb outing Sunday against the Dodgers. The veteran left-hander threw six shutout innings, allowing just three hits and two walks while striking out six. He mixed his pitches well, had good command, and was able to keep the Dodger hitters off-balance all afternoon.
With his six innings of shutout baseball, Lester closed the book on an outstanding month of August. In five starts, he went 3-0 with a 1.71 ERA and a 0.94 WHIP. Lester went at least six innings in each of those starts and allowed just 22 hits and seven walks to go along with 35 strikeouts in 31 2/3 innings.
Not to be outdone, Los Angeles starter Stewart also had an impressive outing of his own.
While his numbers heading into the game weren't great (0-2 with a 11.25 ERA in three games), he had the Chicago hitters fooled most of the afternoon. He located his pitches fairly well and used his changeup to great effect in putting forth the best performance of his young career. All told, the right-hander went five innings, allowing two hits and two walks while striking out eight.
The Bad
The more time that passes, the more on board I become with the #RoboUmp movement.
I understand everyone is going to miss a call here and there, but on Sunday, home plate umpire David Rackley had some pretty egregious strike calls on balls that were three to four inches off the plate. I guess that's the human element some people are clamoring for.
The Ugly
The decision by Baez to throw to second base instead of first on Gonzalez's grounder proved to be fatal for the Cubs. While it's easy to say from the comfort of my living room, Baez has to know both where and who the runners are in that situation. With Zobrist shifted for Gonzalez and Anthony Rizzo not holding the runner, the easiest out is throwing to Rizzo to get the slow-footed Gonzalez.
Coming Attractions
The Cubs return to Wrigley Field Monday night to take on the Pirates in the first game of a three-game series. Chicago will send Jake Arrieta (16-5, 2.62 ERA) to the mound, while Pittsburgh will counter with left-hander Steven Brault (0-1, 3.60 ERA). First pitch is slated for 7:05 p.m. CST.