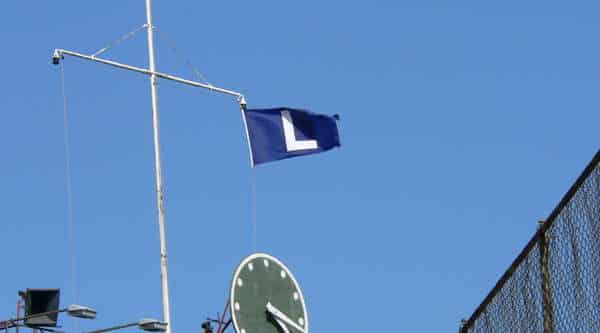 Tip of the Recap – 4/23 (Cubs 5, Reds 13)
Cubs Record: 13-5 (1st in the NL Central; 3.5  games ahead of Pittsburgh)
W: Blake Wood (2-0, 1.1 IP, 0 H, 0 ER,  2 BB, 0 K)
L: John Lackey (3-1, 5.2 IP, 7 H, 6 ER, 1 BB, 5 K)
MVP: The Reds offense and bullpen
A Joey Votto bobblehead promotion produced a surprisingly good turnout in Cincinnati, and the Reds decided it would be a good time to show up and look like a Major League baseball team. The Reds offense tattooed Cubs pitching, and exploded in the 6th by scoring 7 runs on 3 homers. The Reds bullpen also played a huge role in securing this victory, because they held the potent Cubs offense to only 2 runs through the final 4.1 innings of the ballgame.
The Good
Addison Muscle was great at the dish. He started the scoring off with a solo no-doubter to left in the 2nd inning and finished 1-1 with the home run, 3 walks, and 2 runs scored. Hopefully the hits start falling for him, as he's seeing the ball well and making good contact.
Sex has been fantastic so far this season, and there was more of the same in this game. Dexter Fowler has also been pretty good, and he continued his hot start by going 2-4 with 2 doubles, 2 walks, 1 RBI, and 2 runs scored.
The Bad
I'm not sure about Cincinnati's drifter population, but John Lackey certainly wasn't scaring any of the Reds hitters. He started out strong and was perfect through 3 innings, but ran into some trouble in the 4th, giving up 3 hits and 2 runs in that frame. In the 6th inning, however, Lackey got rocked. He allowed four consecutive hits to begin the inning, including a three-run bomb to Eugenio Suarez.
Lackey's pitches caught too much of the plate and the Reds batters took advantage. Lackey was not able to make it through the 6th inning, and was pulled for Trevor Cahill — who would give up another three-run homer, ultimately charging the starter with six runs — after walking Jay Bruce with two outs.
My guess is Lackey's ineffectiveness was due to the clubhouse running out of the jerky he makes himself. I imagine it's difficult to sustain himself during games, and we can only hope there's plenty of jerky to spare in future starts.
The Ugly
The 6th inning was really bad for Cubs pitchers. Cahill was throwing soft stuff up in the zone that the Reds batters crushed. He gave up a three-run bomb to Adam Duvall, which was followed by a Scott Schebler solo shot. Even the final out was mashed, as Tyler Holt lined out to Kris Bryant at the warning track. Right when it left the bat I thought it was gone. The Reds ended up scoring 7 runs in the 6th inning, which was more than the Cubs had given up in an entire game all season. Trevor Cahill gave up 3 runs on 3 hits in 1/3 of an inning.
Neil Ramirez came in to pitch in the 7th and did not pitch particularly well. He wasn't locating his sliders, and he labored through the frame, having to throw 32 total pitches (18 of which were thrown for strikes) to get through the inning. After striking out Zack Cozart, he walked Suarez, then gave up a two-run dinger to Joey Votto, who's been surprisingly quiet so far this year. That was followed by a double to Brandon Phillips and an intentional walked to Jay Bruce to get to Devin Mesoraco. Ramirez struck out Mesoraco and Duvall to end the 7th.
Clayton Richard came in to pitch the 8th inning and gave up 2 runs on 2 hits and a walk.
The defense in the 8th inning was atrocious as well. Jorge Soler misplayed a ground ball along the foul line over by the ball boy, which allowed Tony Cingrani, who was on 1st base, to score. Addison Russell had a throwing error on a routine ground ball, but luckily Cozart got caught in a rundown between 1st and 2nd and was tagged out by Anthony Rizzo.
Coming Attractions
Jason Hammel (2-0, 1.00 ERA, 1.11 WHIP) will take the ball for the Cubs and Alfredo "Big Pasta" Simon (0-1, 12.15 ERA, 2.55 WHIP) will work the bump for the Reds tomorrow, as Chicago tries to take three of four in Cincy. The last time Big Pasta faced the Cubs he only lasted 2/3 of an inning and gave up 5 earned runs on 4 hits and 3 walks while striking out only a single batter. This will be Hammel's second start against the Reds, so a repeat of the earlier 8-1 victory in which he pitched 6 innings of shutout ball would be nice.