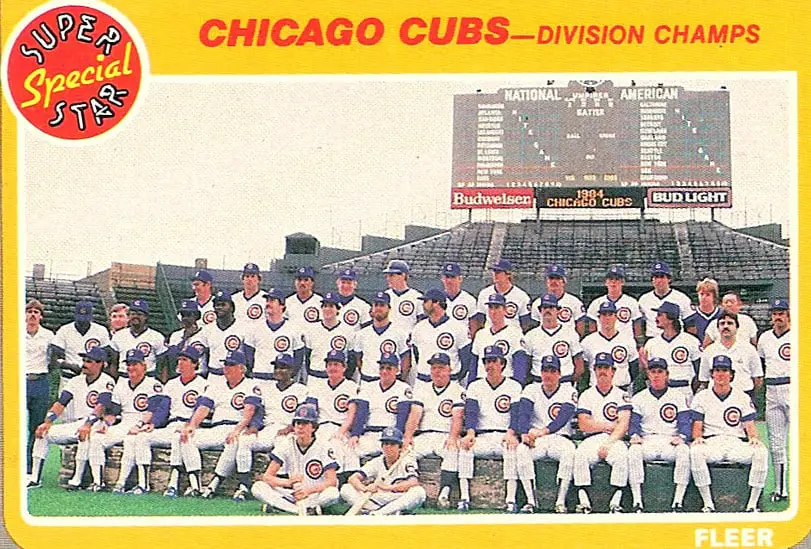 A Look Back at the Magical Summer of 1984 and the Men Who Made it Happen
We've spent the last several years analyzing the moves of the Cubs' front office, arguing over the merits of their rebuilding plan and (mostly) lauding its recent results. But as we are now only a few days removed (January 27th) from the 34th anniversary of the now-infamous trade for Ryne Sandberg, I wanted to look back at another regime that had put the Cubs in position to win big. And so I find myself reviewing the tenure of the infamous Dallas Green. A self-professed "screamer, yeller, and a cusser," Green was hired by the Tribune Company prior to the 1982 season and he presided over some of best-known events in Cubs history.
I think Green gets a pretty raw deal when it comes to Cubs history, given that he is often overlooked as the architect of what was a great, if snakebit, Cubs team. To be sure, though, much of that was his doing. I wanted to revisit what Dallas orchestrated in order to paint (even if by numbers) a picture of his time in Chicago.
Trades
Green came to the Cubs after spending a few years as the Philadelphia Phillies' manager, and he wasted no time looting his old organization in order to fill out both his staff and the Cubs roster. To that end, John Vukovic and Gordon Goldsbberry were brought in, along with Green's former college roommate (who will get his own special recognition later). Players such as Keith Moreland, Dan Larson, and Dickie Noles were brought on board in that first offseason as well. Heck, Green even brought an aging Fergie Jenkins back into the fold. He picked up Gary Matthews and Bobby Dernier from the Phils prior to the 1984 campaign, which helped to transform the Cubs into serious contenders.
In May of the 1984 season, Green flipped Bill Buckner to the Boston Red Sox for Dennis Eckersley. And then, less than a month later, he sent Mel Hall and Joe Carter to Cleveland in exchange for George Frazier, Ron Hassey, and Rick Sutcliffe. All Sut did over the remainder of that season was go 16-1, which was, you know, kinda good. But the coup de grace was easily the fleece job he pulled by swapping Ivan DeJesus (who hit .194 with no homers and 13 RBI in 103 games with Chicago in '81) for Phillies shortstop Larry Bowa, who would go on to bat .223 with 0 HRs and 17 RBI for the '84 NL East Champs. Oh, there was also a throw-in minor-league infielder included in the deal.
So over the course of his first 3 seasons at the helm in Chicago, Green brought in Zonk, Sarge, Bobby D, Eck, The Red Baron, and some kid named after a former Yankees pitcher. Not a bad collection of talent for what had previously been a hapless organization. Never mind that they would quickly fade back to blech.
Green burned through 3 managers in his 6 seasons in Chicago and burned bridges with city officials and Tribune Co. execs before resigning in October of 1987 due to the catch-all reason of "philosophical differences." I never understood why a Kierkegaardian ownership would bring in a GM with Socrates' philosophies and hypotheses (can't define how I be droppin' these mockeries), but c'est la vie.
Tirades
Everyone knows that Wrigley was first illuminated on 8/8/88, but Dallas Green was clamoring for lights well before that. In fact, he was threatening to move the club to Schaumburg or Arlington Heights well before Tom Ricketts did so. Green even contemplated moving the Cubs to Comiskey for a year just to put a financial pinch on the Wrigleyville neighborhood, saying: "if there are no lights at Wrigley Field, there will be no Wrigley Field."
You'd have to assume that a controversial and outspoken GM would want to hire a like-minded manager to mold his ballclub, and that's exactly what Green did when he came to Wrigley. Most Chicagoans' favorite University of Delaware alum right now is the Sky's (that's the WNBA team in Chicago) Elena Delle Donne, for reasons that are quite obvious. Some might even cotton to former Blue Hens Joe Flacco, Rich Gannon, and Chris Christie.
But before laser, rocket-armed QBs, outspoken politicians, and super-awesome basketball players, UDel turned out Dallas Green and his buddy, Lee Elia. Despite spending only two years on the North Side, Elia is one of the club's best-known skippers, though his fame has little to do with the success of the ballclub. No, no, it's something far more fun than that. Elia was somewhat less than pleased with the die-hard fans demanding more, dropping mockeries of the Cubs' performance at the start of the '83 season. And by "somewhat less than pleased," I mean that he bombed atomically. You've likely heard it many times before, but Elia's graphic display could've melted steel like blacksmiths.
For my money, listening to someone just flip their lid never gets old.
You're welcome.
The Summer of 1984
For many of us, the '84 season was where it was at. Well, until things really came together for the group currently taking up residence at Wrigley. As a 5-year-old, that team represented to me a real introduction to what it meant to be a Cubs fan. I wasn't around for the Bacchanalia of the late 60's, with the Bleacher Bums and the triumvirate of Banks, Williams, and Santo (of course, Jenkins was there too, but I still put him on a tier just below those others, and including him would mean that I wouldn't have been able to use the word "triumvirate"), so I can't really compare the two eras fairly.
But the '69 team collapsed prior to the pennant, while the '84 unit made the postseason for the first time since the 1945 World Series. "Go, Cubs, Go" was new, so it was neither ironically sad nor annoying in its ubiquity. The team was young, talented, and fun to watch. No lights meant day games, which meant that every kid in range of the WGN TV and/or radio signal could watch the Cubs all summer long.
And the spark of that team, the breakout star who made it all go and the head to their Voltron? Well, that, of course, was the throw-in prospect of the DeJesus/Bowa trade: Ryne Dee Sandberg, thus named because of his parents' affinity for former New York Yankees pitcher Ryne Duren. The Cubs' Ryno would go on to start a naming craze of his own, but we'll get to that later.
The tail end of Sandberg's double-play combo that glorious summer was Leon "Bull" Durham, who had come to the Cubs in the trade that sent Bruce Sutter to the St. Louis Cardinals. Sutter would provide the trampoline that launched Sandberg into super-stardom, giving up 2 game-tying homers to the young second baseman on June 23. Sandberg would go on to bat .314 with 19 HR and 84 RBI en route to the NL MVP award. One could argue that this was 4th-best MLB season (1985, 1990, and 1991), but on that Saturday afternoon with the nation watching as Bob Costas provided the color, Ryno had his signature moment.
I still get chills watching those homers, and that's not some sort of literary allusion or careless hyperbole. This game, at least select portions of it, was the first thing my son ever saw on television. He was only 30 minutes old at the time so I'm not sure how much he really comprehended, but I'll never forget holding him in that hospital blanket and hearing my own father say, "You see that, Ryne, that's your dad's hero." Man, all the feels. Oh, and you read that right: my son's name is Ryne. While it's not the world's most popular moniker, the Sandberg phenomenon left its mark.
As you can see from the chart below, there was an explosion in the number of American babies given the name Ryne in the mid-80's. Huh, watching the Cubs in the summer of '84 must have had the same effect as the pills they advertise ad nauseam on the broadcasts these days.
Sadly, the 96-win season came to an inglorious end when, with the Cubs leading 3-2 in the deciding Game 5 of the NLCS, Tim Flannery's grounder found Bull Durham's 5-hole, and the San Diego Padres went on to win. The Cubs couldn't maintain momentum as a franchise and floundered over the next few years. Dallas Green and his staff did, however, lay the groundwork for future success later in the decade. The farm system they built yielded Shawon Dunston, Greg Maddux, Rafael "I'm Gonna Wave My Finger to Show You How Serious (-ly  douchey) I Am" Palmeiro, Jamie Moyer, and Mark Grace. 

The memories of that halcyon summer of my 5th year still clutter the corners of my mind like so many gossamer cobwebs. Try as it might, time's broom will never completely clean them out, though its inexorable sweep has removed some of the clarity from their once sharp and intricate designs. But in a way, the scrim of dust and detritus that now clings to those memories actually enhances them, adding a soft focus to my mental snapshots in much the same way clouds of cigarette smoke tinted old boxing photographs taken from atop crowded arenas. Many of the finer details have gone missing, but the sense of unadulterated joy I had in watching the Cubs is as strong as ever.
Isn't that the best part about our memories, and, ideally, our lives in general though? They shouldn't have the precision of laser-cut perfection, hermetically sealed and set aside on a high shelf for preservation. No, they should be threadbare and careworn from use, their edges blunted and worn smooth by the gentle sandpaper of sharing.
In today's game, custom software packages and $500,000 supercomputers are purchased in order to dissect players into the minutiae of metrics and the specificity of saber-stats. And that's all well and good — quite necessary, in fact — for the present and future of baseball, but I'll take my past with a subjective slant, thank you very much.
I would have been a Cubs fan no matter what, just like my father and his father before him. With WGN representing a full quarter share of our TV options, I'd have had little choice anyway. But the Dallas Buyers Club, the team Green assembled and the legacy he built, etched the team into the stone of my soul, and I'd be willing to bet the Ricketts Family Trust that I'm not alone. And speaking of the current ownership, it's looking more than a little bit like they're presiding over a group that could very much replicate or even exceed the emotional impact of their predecessors.
A version of this story first appeared in the ChicagoNow iteration of Cubs Insider in 2014.