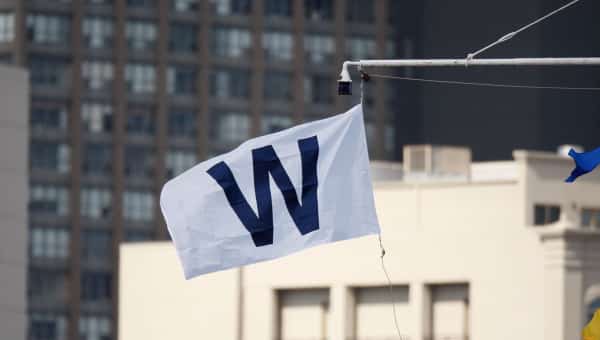 A Tip of the Recap – August 14th
The Cubs have now won 8 in a row and 14 out of their last 15 after a close 6-5 victory over the White Sox today that saw 3 more HRs from the Cubs.
The Good
The Clobbering Cubs were back at it today with 3 more HRs after hitting 5 in yesterday's game. Chris Coghlan had a 2-HR game and Anthony Rizzo hit a HR in his 2nd straight.
Coghlan provided a majority of the offense, going 2 for 4 with the 2 HRs (12 and 13 on the year) and 4 RBI (29 total). Coghlan had been struggling for most of August so it was good to see him bust out in a huge way like he did today.
Rizzo followed Coghlan's 2nd HR of the day with a solo shot of his own to go back-to-back and put the Cubs up for good. He now has the team lead in RBI all to himself with 67 and is hitting .296 on the year.
Starlin Castro got his 1st start at 2nd base today with the Cubs being able to use Kyle Schwarber as a DH and moving Coghlan to LF. Castro responded with a 3 for 4 day to bring his AVG up to .242. Maddon did say that if he can get his bat back on track he may have a chance to start there more frequently (assuming they don't pick up someone like Chase Utley).
Dexter Fowler and Kris Bryant had nice days at the plate with each having 2 hits. Fowler finished 2 for 5 (6th triple and 19th double) and scored 2 runs, while Bryant went 2 for 4 (single and his 19th double). Fowler's AVG is up to .242 while Bryant is back up to .255 after flirting with the .240s for a little bit.
The pen may have been the biggest star of them all though. The group of Clayton Richard, Justin Grimm, Pedro Strop and Hector Rondon pitched 5.2 innings of scoreless baseball, surrendering just 2 hits and 2 walks while striking out 8. Rondon got the final 3 outs for his 20th save, needing just 8 pitches.
The Bad
While it is good that the pen was so dominant tonight for as long as they were, it really highlights the fact that Kyle Hendricks was not nearly good enough in the start. The Cubs battled back to take the lead from the White Sox and he just couldn't hold it. In all he only lasted 3.1 innings and gave up 5 runs (all earned) on 8 hits (1 HR) and 3 walks with 3 Ks. His ERA now sits at 3.97 and he will look to improve next time out against the Braves.
On Deck
Game 2 of the cross-town series will be tomorrow at at 6:10 PM (CST). The Cubs broadcast can be seen on ABC7 while the Sox team will be on CSN. Jake Arrieta (13-6, 2.38) will get the ball for the Cubs against Jose Quintana (6-9, 3.59) for the Sox.