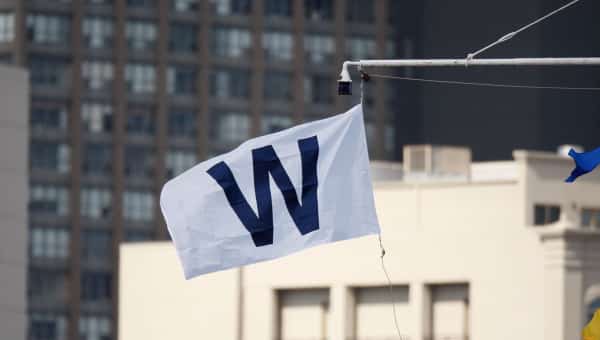 A Tip of the Recap – August 13th
The Cubs powered their way to a 9-2 victory over the Brewers with 5 HRs and great pitching from Lester to stretch their winning streak to 7 games.
The Good
It was a good day to hit at Wrigley and the Cubs didn't miss an opportunity to put some souvenirs in the bleachers. Kyle Schwarber hit 2 HRs, with Dexter Fowler, Anthony Rizzo and Chris Denorfia each hitting one.
Fowler had himself a big day, going 2 for 3 with 2 walks, 3 runs scored, and 2 RBI. Those RBI came on a disputed 2-run HR (his 12th) to right-center that just barely made it over the basket before bouncing back into play. Fowler was originally given a double, but upon further review it was decided he hit it out and it put the Cubs up 3-1. But they weren't done yet with the power display.
Kyle Schwarber followed with a HR to CF to give the Cubs back-to-back HRs in the 5th. He finished with a huge line after hitting a 2nd HR in the bottom of the 7th; all in all he was 3 for 4 with 2 runs scored, 4 RBI and a walk. He is now hitting a cool .330 with 8 HRs and 25 RBI in just 31 games.
Anthony Rizzo got in on the HR party in the 5th with a solo shot of his own (his 22nd). He finished 1 for 3 with 2 runs scored and a walk and has a .296 AVG to go along with 66 RBI.
Chris Denorfia entered into the game as a defensive replacement for Jorge Soler, but made his lone AB count with a solo HR in the 8th inning to join the fun. It was just his 2nd HR, but he is hitting .285 and has gotten healthy has really settled into his role nicely.
Jon Lester was outstanding like he has been for the past 6 weeks. He worked 6 innings and gave up 2 runs (both earned), while scattering 7 hits with 2 walks and 10 Ks. He evened his record to 8-8 and dropped his ERA to 3.21 on the year. He did make an error on a pickoff throw that was not very close to Rizzo's glove, but owned up to it after the game and said it is a real area for improvement. The Brewers stole 5 bases off of him, but obviously it didn't have a huge impact on him or the Brewers' offense.
Jason Motte, Tommy Hunter and Travis Wood finished off the final 3 innings with very little trouble, surrendering just 2 hits with 4 Ks between them.
The Bad
Nothing to complain about from this one; another sweep that gives the Cubs a solid 7-0 homestand. They are playing with some kind of confidence and everything seems to be clicking right now for them. Here is hoping things continue this way as the calendar marches towards October.
On Deck
The Cubs will get to still sleep in their own beds as they head to the South Side for 3 against the White Sox. Game 1 will start at 3:10 PM (CST) with the Cubs' broadcast coming from CSN. Kyle Hendricks (6-5, 3.73) gets the nod for the Cubs against familiar face Jeff Samardzija (8-7, 4.62) for the Sox.