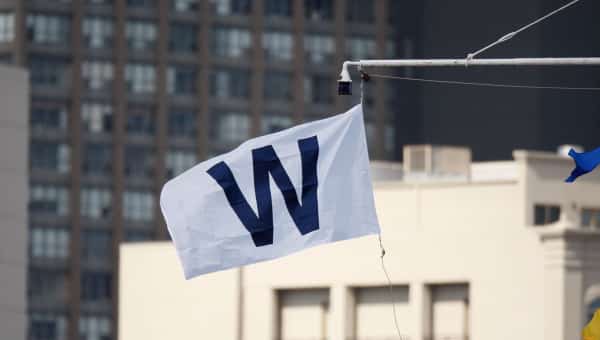 A Tip of the Recap – July 31st
The Cubs fell behind early, but came back with 4 unanswered runs and ran their winning streak to 3 games after a 4-1 win over the Brewers tonight.
The Good
Anthony Rizzo had another great day offensively and finished 2 for 3 with a single and a solo HR (his 19th). He also added a walk and the HR was his 3rd in 3 games and off another left-handed reliever. It was a towering shot and it is so nice to have him breaking out of his mini-slump.
Addison Russell has really turned the corner and is hitting .295 since the break with an 8.3% BB rate and a 16.7% K rate. He went 2 for 4 today including a clutch 2-out RBI single to drive in Jorge Soler from second for the 3rd run of the game. His AVG is now up to .241 to go along with 26 RBI.
Starlin Castro contributed with the bat a little bit tonight, going 1 for 4 with 2 RBI. He had an RBI single in the 2nd and an RBI fielder's choice in the 4th. If not for an outstanding play by Scooter Gennett, he would have had another single and possibly an RBI, as Gennett made a diving catch on a line-drive to his left with Soler on 2nd base.
Jorge Soler had a couple singles and also reached via a fielding error to give him a 2 for 4 night. He also scored a run and is now hitting .261 on the year. He continues to be a bit of an adventure in RF though, with a flyball from the pitcher going over his head for a double, but there is no doubting he has a cannon out there. He really just needs to work on the routes he takes to balls and getting better reads.
Jason Hammel was just good enough to get a win tonight. He went 5.2 innings and gave up only 1 run (a solo HR to Braun) on 6 hits and 2 walks with 4 Ks. He worked out of a bit of trouble in the 5th with a double play and just kind of ran out of gas in the 6th. He improved to 6-5 on the year with an ERA of 3.13.
Grimm, Motte, Strop, and Rondon closed out the win from the pen. Motte pitched the 7th inning and worked around a walk with 2 Ks. Rondon has given up 1 run in his last 28 innings after another clean inning tonight. Let that sink in for a second; since 5/25/15 he has given up 2 runs; 1 of which was earned. He earned his 15th save and lowered his ERA to 1.72 on the year.
The Bad
The broadcast feed from WGN was awful for probably the first 5 or 6 innings, which made the game hard to watch at first. They did eventually get it fixed, but it was very frustrating and this was after yesterday's issues which saw CSN play the Brewers' broadcast because of their own feed issues. The next 2 games will be on ABC7, so it will be interesting to see if these problems persist.
Other than that, there is nothing too bad from this one. The defense played well (great diving catch by Coghlan) and the Cubs were able to add onto their lead throughout the game. The pen was outstanding and Rizzo is breaking out offensively again, with even Castro contributing.
On Deck
Game 3 is tomorrow evening at 6:10 PM (CST) on ABC7 and will feature Kyle Hendricks (4-5, 3.81) taking on the familiar face of Matt Garza (5-11, 5.20) for the Brewers.