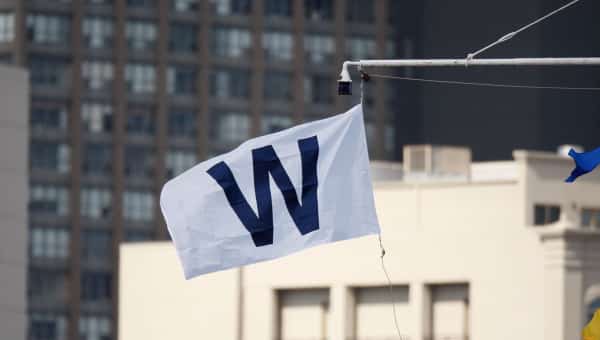 A Tip of the Recap – July 7th, Game 1
The Cubs took game 1 of the day-night doubleheader today with a 7-4 victory over the Cardinals behind some great pitching from Jake Arrieta and an offensive outburst in the 8th inning.
The Good
Arrieta was cruising through the first 6 innings today but spend a great deal of time on the bases in the bottom of the 6th and was less sharp in the 7th. In all, he went 6.2 innings and gave up 2 runs (both earned) on 7 hits, 2 walks and 4 Ks. His record improved to 9-5 on the year with a 2.80 ERA. Arrieta also contributed with the bat, going 2 for 3 with a run scored.
As a team the Cubs drew 8 walks against on 7 Ks and pounded out 12 hits on their way to victory. That approach will wear out a lot of pitchers and usually will equal a win.
Fowler, Rizzo, Denorfia and Herrera all had 2-hit days at the plate. Fowler had a single, walk and RBI double in his return to the lead off spot against a lefty. Rizzo had an impressive opposite field 2-run HR to left (his 16th HR, 47th RBI) to tack on runs in the 8th and he also drew 2 walks. Herrera had a couple singles and played a decent 2nd base in place of Addison Russell (who will start the 2nd game).
Chris Denorfia was very clutch today going 2 for 4 with 3 RBI (including 2 on a 2-out single in the 3rd). He is now hitting .330 with 11 RBI on the year and has shown that, when healthy, he can be an important part of the team.
Jorge Soler added an RBI on a bases-loaded walk in the 6th that showed tremendous restraint on some very close pitches. Earlier in the year those are the situations that Soler would expand his zone, but today was very calm and unwilling to swing at pitches out of the zone.
The Bad
Neil Ramirez was brought in for the 9th to protect a 5-run lead, but instead gave up a single followed by a 2-run HR to Mark Reynolds. This in itself is not that bad, but it led Maddon to bring in Motte for the final 2 outs and it would have been nice if the Cubs could have held him back with such a commanding lead. Motte did only throw 7 pitches, so there is a good chance that he would be a go tonight anyway, but it would have been better to not have him appear in today's game.
On Deck
Game 2 will start at 7:05 PM (CST) and can be seen on the MLB Network and CSN. Dallas Beeler has been called up to make the start for the Cubs while the Cards will counter with Tim Cooney (0-0, 5.40).