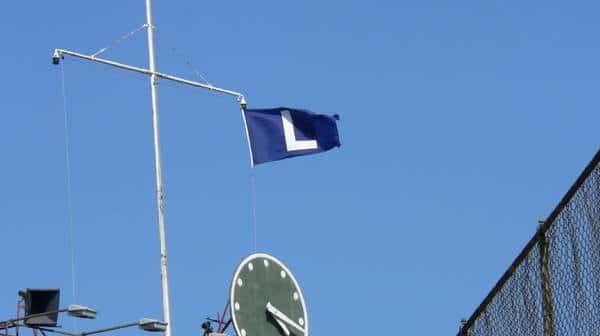 A Tip of the Recap – June 18th
The Cubs withstood over an hour of a rain delay, but couldn't get a big hit when they needed one and lost by a score of 4-3 against the Indians.
The Good
Kyle Schwarber impressed yet again, going 2 for 4 with his first MLB HR (an opposite field, 2-run shot) to tie the game in the 5th inning before the rain came and delayed the game for over an hour. He had such a quick compact swing and just muscled the ball into the LF bleachers; it was a great show of his power.
Kris Bryant extended his hit streak to 14 games with an infield single in the 5th inning. Bryant has hit .317 over his last 15 games and has his AVG up to .294.
Dexter Fowler had a 2-hit night (both singles) and his single in the 3rd got the Cubs on the board thanks to a throwing error by Francisco Lindor.
Pedro Strop worked around a walk and struck out all 3 of the other batters he faced to produce a scoreless inning of relief. He lowered his ERA to 3.00 on the year and had a good slider working.
The Bad
Jason Hammel was not overly sharp again; he gave up 3 runs (2 earned) on 3 hits and 2 walks with 6 K's in 4 innings of work before the rain came and ended his day. He was up to 86 pitches through his 4 innings of work, so it wasn't likely he was going to go much longer as it was, but still not a great night for him.
The Cubs struck out a total of 13 times, including a stretch of 7 in a row after the game restarted from the rain delay. Contact is going to be an issue for this team, but 7 times in a row was really rough to watch.
On Deck
The Cubs will travel to Minnesota for a 3-game tilt with the Twins. Game 1 will be a matchup of Kyle Hendricks (2-2, 3.80) for the Cubs against Phil Hughes (4-6, 4.79) for the Twins. First pitch is scheduled for 7:10 PM (CST) and the game will be televised on WGN in the Chicagoland area.