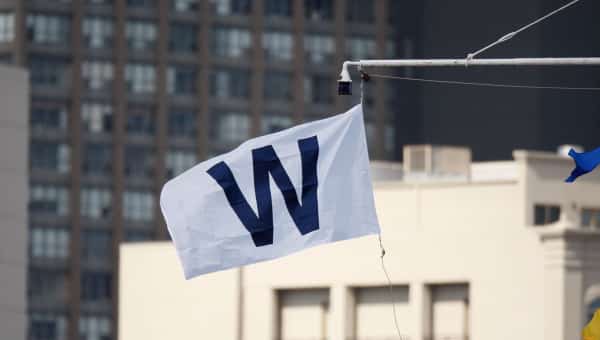 A Tip of the Recap – May 26th
The Cubs battled all night and won by a score of 3-2 on a walk off hit by Addison Russell with 2 outs in the bottom of the 9th.
The Good
Kyle Hendricks followed up his complete game shutout with another gem tonight. In all, he went 7 innings and gave up just 1 run on a wind-aided HR to Bryce Harper. Otherwise he was near perfect for the nigh, surrendering just 4 hits with 2 walks and 4 K's, lowering his ERA to 3.76.
Dexter Fowler got the Cubs on the board in the bottom of the first with a solo HR to RF (also wind-aided). It was his 6th HR of the year and he displayed some pretty quick wrists in his swing.
Kris Bryant absolutely destroyed a ball to LF off the top of the jumbotron to knot things up at 2-2 in the bottom of the 8th. It was his 7th HR and it was a heck of an AB by Bryant. He was patient and didn't swing at anything out of the zone and was able to get a hanger that he properly struck.
Addison Russell was the hero of the night though with his game-winning RBI double to right-center. He was 3 for 4 tonight with 2 doubles (11 on the year now) and is now up to .252 on the year.
The Bad
Pedro Strop had no problem retiring the first 2 hitters that he faced tonight, but then the masher known as Denard Span stepped to the plate and hit (at the time) a go-ahead HR to RF. It was one of those nights where if it was hit in the air it had a chance and Span got enough of it for it to reach the bleachers.
On Deck
The Cubs will look to take the series with the Nationals in tomorrow's rubber match. First pitch is scheduled for 7:05 PM (CST) and will be shown on MLB Network (nationally) and CSN (chicagoland). The matchup is a doozy as it will be Jon Lester (4-2, 3.56) going against Max Scherzer (5-3, 1.67).