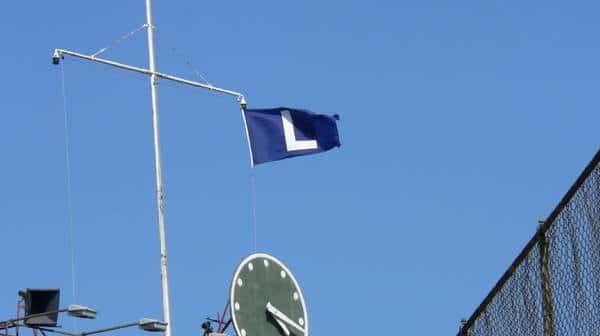 A Tip of the Recap – May 5th
The pitching staff failed to hold another lead tonight and the Cubs turned a 4-1 advantage into a 7-4 loss to the Cardinals.
The Good
Anthony Rizzo isn't just becoming the best first baseman in the NL, but he is going to get in the argument for MVP with the way he has started the season. He reached base 4 out 5 times up tonight, though he did come up with the bases loaded in the 8th and grounded out to end the inning. Either way, he has looked so in control at the plate and just really refuses to swing at anything but his pitch.
Kris Bryant drove in a run, but his most valuable play was coming around to score from 2nd on a fielder's choice ground ball by Starlin Castro with the bases loaded. He never broke stride and ran hard the whole way. He has had a couple adventures on the bases so far, but overall he has shown very good instincts.
Junior Lake made a couple good plays out in left and had a base hit, as well as a deep fly ball to the wall in RF that just missed being a HR. He has looked very strong at the plate with a better approach since he has been called up so perhaps he will fill that role of 4th OF with Denorfia hitting the DL again.
Addison Russell has been on an extra-base binge, adding 2 doubles tonight (5 on the season now) as well as a walk. His average is up to .261 and he has looked so much more comfortable after his day off last week.
Phil Coke pitched the only clean inning of the night for the Cubs, striking out one in his perfect inning of relief.
The Bad
Kyle Hendricks was handed a 4-1 lead in the 5th, but couldn't come through with the shutdown inning and ended up giving up a game-tying 3-run to Matt Carpenter. In all he gave up 4 runs (all earned) on 6 hits, 2 walks and only 1 K.
Hendricks has not looked as sharp command-wise this year and though his BB% is very similar to last season, he just doesn't seem to be hitting his spots.
The Cubs don't have very good options if the starters can only go 5 innings. Edwin Jackson came into the game in the 6th and gave up 2 runs (both earned) on 4 hits in just 2/3s of an inning. He is by far the highest paid mop-up guy in the league and if he can't even do that role, I see no real need for him on the roster.
The Ugly
Starlin Castro was playing at such a high level coming into this series, but he has fallen into some bad habits and seems to want to pull everything now instead of using the whole field. He did drive in 2 runs, but that was a bit of luck and, admittedly, some hustle on his part.
Defensively he made a couple bad plays; one was a failure to barehand a soft grounder by Holliday that I think Castro could have gloved and still thrown him out in a enough time. Later he got in the way of Addison Russell on a routine grounder and couldn't record an out, which turned into another run for the Cards.
On Deck
The Cubs will hopefully take the next 2 to earn a split with the red-hot Cardinals (winners of 8 in a row now). Jon Lester (1-2, 4.71) will look to build on his best start of the season tomorrow night for the Cubs, while the Cardinals counter with Lance Lynn (1-2, 3.07).  The game will again start at 7:15 PM (CST) and will be shown on CSN.