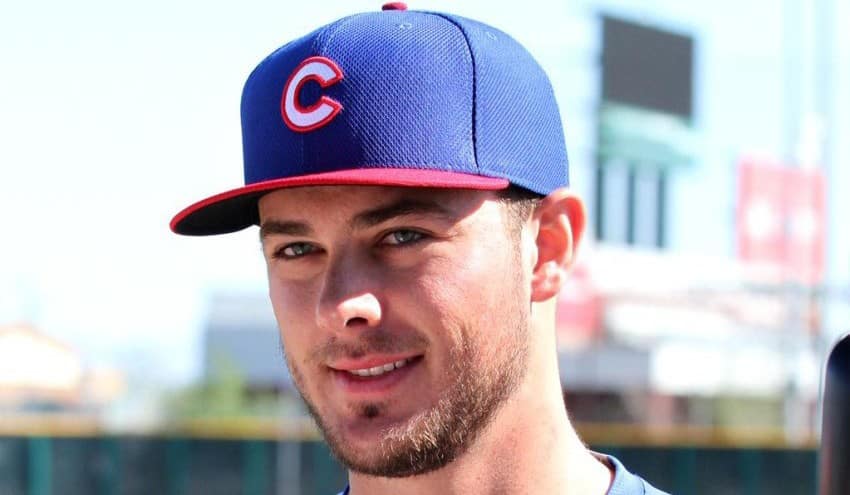 The Case for Kris Bryant's Inclusion on the Opening Day Roster
Theo Epstein and Jed Hoyer know a lot more about player development than I do. Whatever your opinion of them as the President of Baseball Operations and General Manager (are we really still fighting over whether they were good hires now?), they have a strong track record in the area of developing major league talent. And Theo Epstein has been aggressive about listing the various perfectly understandable baseball reasons for Kris Bryant to start the year in Iowa.
I can say this: This is my 13th time putting a team together at the end of spring training and I have never once put a young prospect on an Opening Day roster when he had to make his major league debut (with the exception of a Rule 5 player).
You can add the two seasons Jed Hoyer led San Diego to that 13-team total and you can easily see that this is not a situation unique to Kris Bryant. I do believe Theo Epstein to be genuine in his statement that the front office is extremely thoughtful about when players make their debuts. Unfortunately, there is a bit of self-interest here as we all well know the math when it comes to service time.
The Cubs merely have to wait a couple weeks into the season to enjoy Kris Bryant for nearly seven years as opposed to six. This math was surely part of the decision-making process in Boston and San Diego as well.
Seven is greater than six. I understand this argument. I have made this argument. Recently. An extension cannot be assumed because Kris Bryant has positioned himself perfectly to test free agency. He has received a ton of money up front in the largest signing bonus of this CBA-era draft. His risk of injury is significantly smaller as a hitter, and he has the most aggressive sports agent in the world. Calling up Kris Bryant on Opening Day is risking that he will leave Chicago after 2020.
But this is where the Cubs need to act like the Cardinals. The Cubs have a front office whose strength is the relationships it cultivates. They have a manager who is beloved by his players. Wrigley Field is a special place.* Trust in your organization the way the Cardinals do when they trade for a player a year before free agency without hesitation. Scott Boras works for Kris Bryant, which Bryant has reminded everyone once already this spring training. It will cost the Cubs more future dollars to keep Bryant, but there is a reason to gamble those dollars.
The 2015 Cubs are a competitive team. Whether you think this is the year or not, the front office has given up future assets already for the promise of playing meaningful games in 2015. Every projection out there places the Cubs in the thick of the race for a postseason berth. The Cubs are in a position where each marginal win is incredibly important.
Now Kris Bryant may or may not be the difference in those marginal wins. Measured by WAR, no player is able to swing a team a whole win in the couple of weeks that Bryant is to be exiled in Iowa, but that ignores the context of how he will achieve that WAR total. In those two weeks, the Cubs will play 3 games each against the Cardinals, Rockies, Reds and Padres (I am using Rany Jazayerli's prediction of April 20th for a Bryant call up because it does make a lot of sense).
Those games will have a significant impact on the Cubs' chances of playing in the postseason, and Bryant might be the difference between winning and losing a game against the Cardinals or Padres, both of whom figure to be in the playoff picture. Also, how the Cubs start will have a significant effect on how the front office views the deadline.
A team that gets off to a slow start against several tough opponents without one of their, presumably, best players is very likely to be a seller. A team that gets off to a fast start is likely to be a buyer, and the added benefit of helping to bury the Reds to make them potential sellers is just another wrinkle to this scenario.
The end result here is that, while seven seasons is certainly greater than six, we don't know what those games are going to be for the Cubs. There is a strong possibility that those 10-12 games in 2015 are really going to mean something for this organization.
The hope is that the entire 2021 season will have meaning, but there is a very real chance that those games will have as much significance at the big league level as the 2012 version of this team. So there is a chance that in this one rare instance there is a confluence of forces that make it worthwhile to trade that year of control for the best chance at competing in October.
At the end of the day this is all a moot point because Theo Epstein will make the decision, and we know what that decision will be. He has developed far more successful big leaguers than I ever will, but it is not crazy to question whether or not the Cubs are better off with Kris Bryant right now, even at the expense of 2021.
*Given the state of the construction at right now, perhaps this isn't such a strong selling point; but since this is a temporary issue the fact remains.